OneFeather Sponsors Mural on Newly Revitalized Tech and Learning Centre at Victoria Native Friendship
OneFeather is sponsoring the mural on the newly refitted tech and learning centre at the Victoria Native Friendship Centre.
July 22, 2019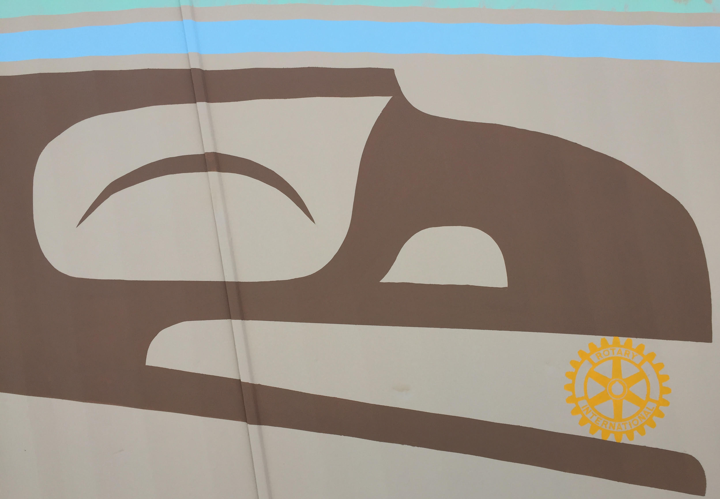 With a mission to encourage and promote the well-being of urban Aboriginal People by strengthening individuals, family, and community, since 1969 the Victoria Native Friendship Centre has served as a vital resource for urban Aboriginal individuals and families in Victoria. The mural is part of a larger partnership and collaboration with the multiple Rotary Clubs and Rotary International. Here is an interview with Jamin Zuroski, the artist who designed and painted the mural.
Please tell us a little bit about your background.
Jamin Zuroski: I am a Namgis First Nations Artist, residing in Victoria, BC. As an artist, I look to inspire community connections through art, history and collaboration.
I hold mixed ancestry from Ukrainian and Polish on my father's side and Namgis First Nation on my mother's side. I am one of three siblings from my mother, Cindy Cook and am a grandchild to Ruth and George Cook. The Gigalgam Cook family comes from the beautiful and culturally rich village called Alert Bay, located on Cormorant Island.
As I navigated and practiced art throughout junior high and high school, I was honoured numerous art awards. During my teenage years, I was offered after hours opportunities to continue my practice and artistic learning under the mentorship and guidance of Victor Newman, Carey Newman and Rande Cook.
How about your approach as an artist?
Jamin: For the past 25 years, I have practiced and worked with a variety of artists, community members, organizations, businesses, schools, friendship centres, municipalities and government on a variety of cultural projects and initiatives.
Some of the current mediums I work with are cedar wood carving, cedar and glass sandblasting, mural painting, canvas painting and computer graphics.
What does the new mural at the Native Friendship Centre tech centre symbolize?
The theme of the murals on the new tech centre speak to mytory, sustainability, and the three types of learning and teaching: celebration, community and personal growth..
The Raven giving the sun, also seen as the rotary logo, acknowledges a gift, a new breath of energy provided by resources and partnerships, to give new strength and opportunity for our community and world.
The Butterfly acknowledges the sign of change and the art of transformation.
The Whale acknowledges the awakening of inner depths and how to carry the mytory of the world.
The Bear acknowledges great strength, the power of introspection, courage and fairness.
The squint eyes in each of the figures symbolize peace, harmony and happiness.
About OneFeather's Support for the Tech and Learning Centre
"OneFeather is very pleased to be supporting the Tech and Learning Centre at the Victoria Native Friendship Centre, both through collaboration in its revitalization inside with Rotary Clubs, and outside through sponsorship of the mural by 'Namgis artist Jamin Zuroski. It's very important to us that the buildings in which we work, play and live our lives are wrapped in a "blanket" of cultural and social relevance.
Using artwork and the messages and stories they convey ensures that the building communicates open arms, a safe place and welcoming. We look forward to continuing this good work and relationships with the Victoria Native Friendship Centre and Rotary Clubs, and through our contributions and support help to redefine the modern indigenous experience for all."
-- Lawrence Lewis, OneFeather Founder & CEO